To Top
Tailor-made waste management solutions
Environmentally friendly waste management and bespoke services go hand-in-hand at Interzero. Which is why we develop industry-specific disposal solutions in close collaboration with our customers.
To implement our solutions, we rely on over 600 certified companies from the waste management and recycling sector. This enables us to handle any category of waste nationwide throughout Germany while meeting the high standards of quality expected by customers in any industry.
Safe and hygienic waste management for healthcare and nursing
Let Interzero handle the disposal of waste from your hospital or nursing homes. Your benefits: optimised costs and transparent processes.
The top priority is patient safety – and this doesn't just apply to healthcare provision but is also important for effective and sustainable waste management. Interzero offers customer-specific logistics and disposal solutions for hospitals, nursing homes and other healthcare facilities, as well as specialised services for hazardous waste. By using our mature models for the closed-loop economy, companies can cut their healthcare costs while improving their long-term environmental footprint.
Specialised solution for nursing homes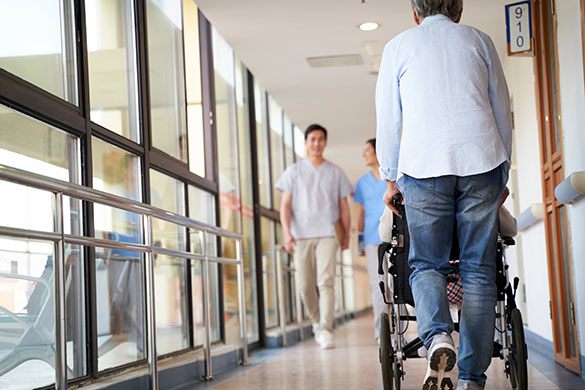 Improved waste hygiene in nursing and care of the elderly: Interzero assists you in the provision of efficient, practical and legally compliant waste management, with a particular focus on offensive/hygiene waste. Our modular service portfolio takes the worry out of waste and waste hygiene management – and can include laundry logistics if required. Specialised vacuum-packing machines help you reduce odours and bacterial loads while also reducing waste volumes to keep waste disposal costs low.
Your benefits at a glance
independent

Our experienced consultants give comprehensive advice and develop an all-in-one package for your healthcare waste management.

nationwide

We put efficiency first with an extensive network drawn from our pool of logistics contractors.

state-of-the-art

Interzero uses the latest waste hygiene systems for disposal work.

efficient

Waste volume is reduced thanks to modern solutions like our vacuum-packing machines.

legally compliant

We guarantee the straightforward, hygienic and legally compliant handling of waste (especially hygienic/offensive waste) within your nursing homes.

protected

Our disposal services for nursing and healthcare provide long-term relief and protection for your personnel.

transparent

With our clearly structured approach to cost management, your costs stay plannable.
Our expert for
Safe and hygienic waste management for healthcare and nursing
Maximilian Riegert
Head of Solutions Management Healthcare
Trusting partners of Interzero