To Top
Taking recycling from ZERO to HUNDRED percent
In Poland, car windscreen manufacturer Pilkington Automotive Poland was looking for a sustainable solution for their surplus PVB foil. Thanks to Interzero, they can make money from it, too.
A vehicle's windscreen should not shatter into a thousand pieces in an emergency. That is why they are usually made from laminated glass, which consists of at least two panes of glass joined together by elastic and non-breakable polymer foil. Unfortunately, the same component that lowers the risk that a car's occupants will be injured in the event of an accident also creates large volumes of waste foil that was previously impossible to dispose of sustainably.
"We take care of everything to do with waste management at Pilkington in Poland", said Anna Grom, Head of Interzero Circular Solutions Europe. "The production of laminated windscreens creates large volumes of leftover foil that could only be thermally treated – in other words, the waste was incinerated. The windscreen manufacturer was no longer willing to put up with this situation, so we began looking for a solution for them."
Putting a stop to waste
Pilkington runs a large central warehouse and a windscreen production facility in Poland. Since 2006, this previously British company has been part of the Japanese NSG Group, one of the world's leading suppliers of glass and glazing systems, and a company with high standards when it comes to sustainability. "On the one hand, disposing of large volumes of foil was very costly, on the other hand, Pilkington Automotive Poland didn't want to simply throw this high-quality material away any longer", Anna Grom emphasized. "Our job was to put a stop to this kind of waste." Interzero started by going through its own network in Poland. While Anna Grom is well aware that recycling firms generally do not accept foil made from polyvinyl butyral (PVB), "our aim was to achieve the highest possible recycling rate for our customer."
A boot manufacturer with a recycling subsidiary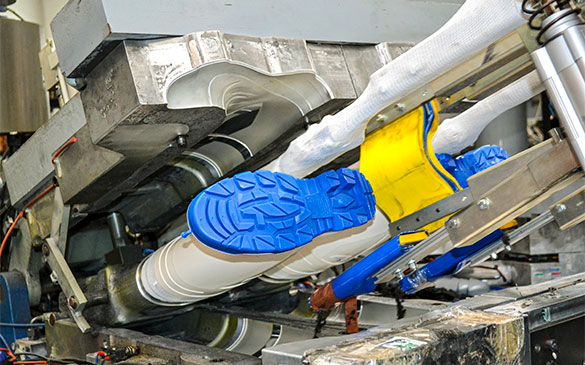 New life for old foil: The Polish company FAGUM STOMIL produces boots from the foil recyclate.
Interzero eventually struck gold in the small eastern Polish town of Łuków. The town is the home of FAGUM STOMIL, a manufacturer of safety footwear and wellington boots who make some of their products entirely from plastic. "FAGUM STOMIL already had experience with recycling, but not based on PVB foil", explained Anna Grom.
"Nevertheless, we were able to convince them to carry out some test runs, as we were confident that there must be a way to turn this foil into plastic granules that can be used to make new products."
As FAGUM STOMIL operates a small recycling subsidiary, they were prepared to give this a try in cooperation with Interzero's experts. And sure enough, after a year of testing and trying, they were able to convert the foil into granulate. "We used the foil pulverization process. This plastic powder is then mixed with another material so that it can be processed further", the Interzero manager explained.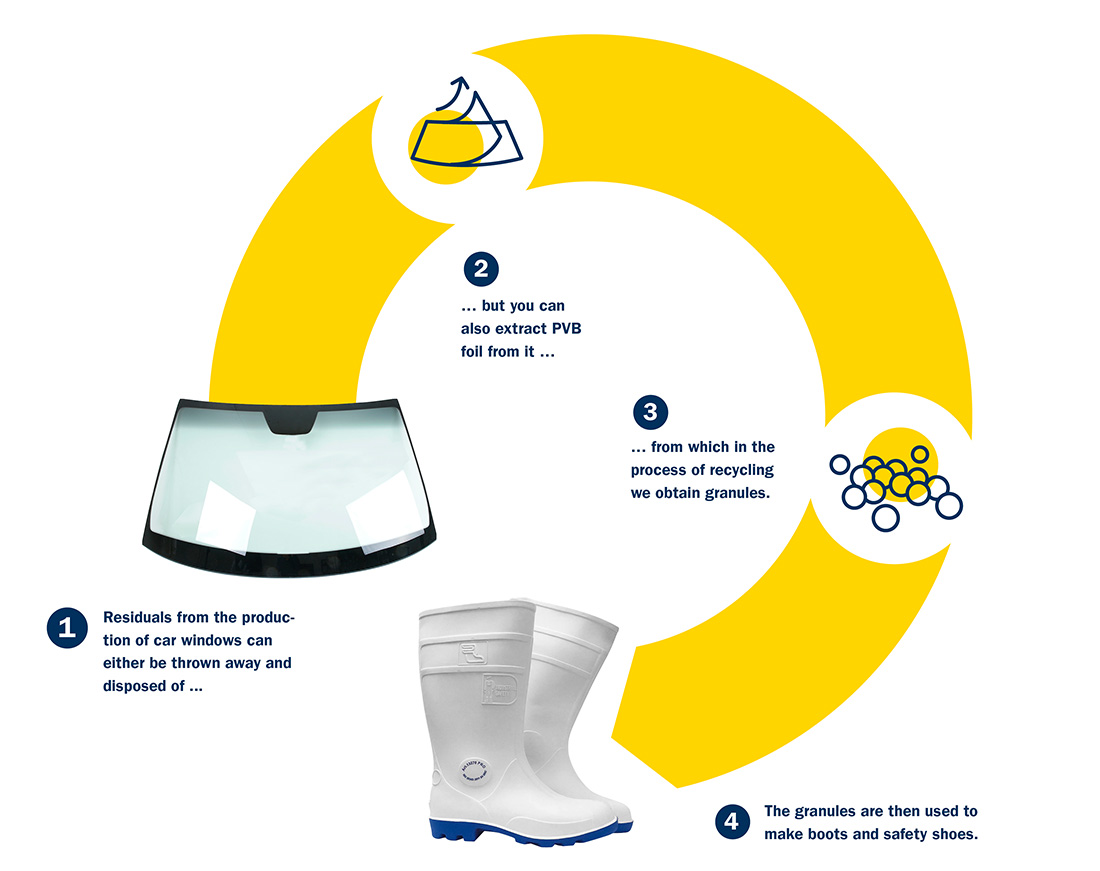 "A fantastic project"
FAGUM STOMIL is aiming to start serial production and manufacture its first wellington boots made entirely from Pilkington's excess PVB foil this year. "Circular economy solutions are groundbreaking for our company and lay the foundations for other solutions that we can introduce to the market as eco-products", said Grzegorz Skomorowski, Vice Director of FAGUM STOMIL. "We want everyone who chooses a pair of our boots to feel that they are part of a fantastic project, one that is about responsibility, sustainable development and, above all, caring for our planet's environment for ourselves and for future generations."
A genuine win-win situation
The project also marks a major success for Interzero in Poland. "We have developed a sustainable business model that benefits both parties", said Anna Grom. "At the first, it seemed as if it was useless, and now we have a 100 per cent recyclable material. As well as saving money on waste disposal, Pilkington Automotive Poland will even earn money from the foil from now on. It's a genuine win-win situation!"
It also highlights Interzero's approach of integrating different partners to develop new recycling loops – something that worked perfectly here. "It is fair to say that some materials cannot be recycled simply because nobody has really tried to do it yet", said Anna Grom. "You just need the will and creativity to make it happen."
Our expert for
Zero Waste Solutions International

Sustainability Magazine
A world without waste. Our strategy gives us the framework for turning this vision into a reality. So that we focus consistently on what's important.