To Top
Eco-friendly management of spent printer and toner cartridges
Customisable, easy and fair – for charity or for cash
Interzero provides a convenient solution for taking back spent, reusable printer and toner cartridges – from collection and buyback to sorting and remarketing. Empty cartridges go in practical collection boxes that you order online.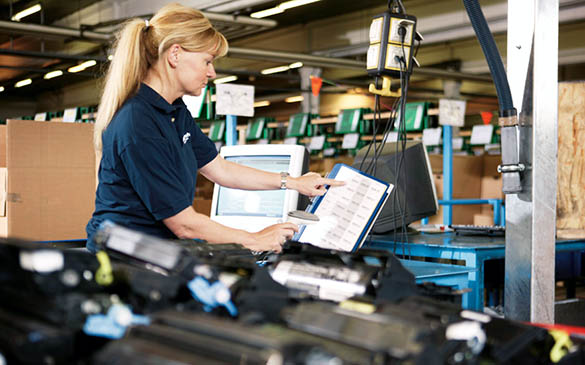 Collection to match every need
Interzero provides a choice of collection systems for spent printer and toner cartridges. No matter which one you use, all are sustainable, convenient and profitable.
One of the takeback schemes for printer cartridges is based on green collection boxes featuring the 'Sammeldrachen', the recycling dragon. By taking part in the scheme, businesses and schools support a good cause: With each cartridge sent in, they sponsor preschool and school teaching materials and games. Some 8,000 businesses and nearly 13,000 schools and childcare facilities make use of the boxes.
An alternative cartridge collection scheme donates to charity: Proceeds from the Caritas Box go towards projects carried out by the German Caritas Association. Yet another scheme is dedicated to supporting the ROTE NASEN e.V.
With the Product Cycle Box, you get an attractive payback for every remarketable cartridge. Following collection, customers are paid out the value of the collected material at market rates.

Careers at Interzero – help to shape the future