To Top
The way to a sustainable future: Closing the loop with upcycling
In Europe alone, around 26 million tonnes of plastic waste are generated every year. To keep the valuable resources in the cycle, we need modern upcycling processes and powerful, innovative recycling technologies.
In Eisenhüttenstadt, Germany Interzero operates a plant that mechanically recycles used plastic packaging. Alongside state-of-the-art sorting and washing technology, the used packaging undergoes a specially developed proprietary treatment process called Recycled Resource. The plastics are fused and compressed to produce an innovative plastic granulate that can be used to make new plastic products. Our Competence Centre in Maribor, Slovenia, additionally brings together our research and development in the field of plastics recycling.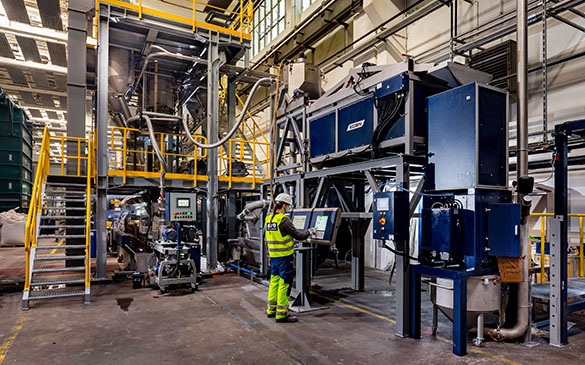 Cascade extrusion system COREMA®
With the new COREMA® cascade extrusion system, it is possible for the first time to produce customised recycling compounds for particularly high-quality applications in just one process step. We are thus reaching a new stage of development in plastics recycling. We use the new technology as part of our Recycled-Resource process, which has won several awards. Additives, modifiers and inorganic fillers in proportions of 0.25 to 40 percent can now be added directly in the manufacturing process – comparable to the compounding of virgin material. Quality control of material rheology and colour stability is carried out digitally and in real time. Not only the quality of the recyclates, but also the environmental performance is further improved with the system. Compared to the use of virgin granulate made from crude oil, the COREMA® system can save up to 50 per cent of greenhouse gas emissions, even when producing complicated formulations.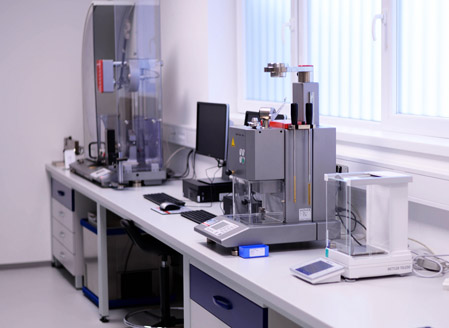 Research and development at Interzero
State-of-the-art equipment for customised recipes