To Top
One World. Zero Waste. Let's #MoveTheDate!
Conserving resources with Interzero: Together with our employees, customers and partners, we are looking for ways to push back Earth Overshoot Day even further and reduce the burden on our planet.
Earth Overshoot Day is an uncomfortable reminder that we are living way beyond our means. In 2023, calculations suggest that this threshold was crossed as early as 2 August. This is the date by which humanity uses up all of the natural resources our planet can provide in one year. As an industrialized nation, for example, Germany reached this grim milestone earlier still on 4 May!
Here at Interzero, we are not prepared to stand by and watch as the world continues to exploit its resources. On the contrary, we are working to create a world without waste where we can use the resources available to us in a sustainable and responsible way. Our "zero waste solutions" actively contribute to climate action every day and help to ensure security of supply for future generations. Together with our employees, customers and partners, we are working hard to push back Earth Overshoot Day further, one step at a time.
Join our movement and reduce your ecological footprint, bacause climate action is a team sport.
As a company, you can improve your sustainability record, resilience, long-term profit opportunities and reputation by opting for sustainable closed-loop materials management. As an individual, you can make a small yet vital contribution every day to make sure our planet continues to have enough air to breathe.
With the clock ticking, we are taking action.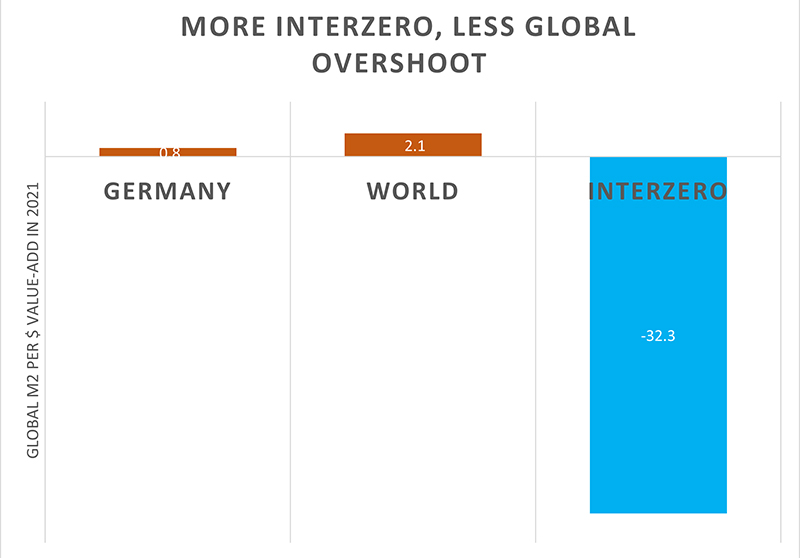 Source: Global Footprint Network
How successful have our efforts and our collaborations with customers been so far? We calculate this in partnership with the Global Footprint Network. The 'resources SAVED by recycling' study that has been run by the Fraunhofer Institute UMSICHT for many years provides valid base data. Interzero then commissions researchers to calculate the amount of greenhouse gases and natural resources we save by managing recyclable materials in a closed loop.
We at Interzero can proudly say that with our recycling activities and circular solutions, we give back 15 times more to our planet per dollar of economic output than the global economy takes on average. Researchers from the Global Footprint Network have confirmed that for every dollar of value add we generate with our zero waste solutions, global overshoot shrinks by over 32 global square metres. This contrasts starkly with the 2.1 global square metres of overshoot added for every dollar generated by the global economy. Without Interzero, Earth Overshoot Day would be 7 minutes and 16 seconds earlier. Our impact is therefore measurable even on a global scale. In terms of Germany, our impact would be as large as 3 hours and 52 minutes.
Find out your ecological footprint and use the calculator from the Global Footprint Network.
Please wait for a moment,
date are loaded...

Our company
Shape the circular economy of the future with success.