To Top
Avoid. Reuse. RECYCLE.
ALDI continues to take huge steps towards sustainability, as the new Tandil 3in1 box made mostly from recycled materials shows.
Now in its fifth year, the "ALDI Packaging Mission" is striving to make own-brand packaging more environmentally friendly. Customers can identify this packaging by the logo of the ALDI Packaging Mission. "We avoid or reduce packaging wherever we can or optimise it with a view to sustainability", explained Arne Ringkowski, Manager Circular Economy at ALDI North Germany. "We follow the principles of the circular economy, focusing on four areas in particular: increasing recyclability, cutting packaging material, reducing new plastics and deliberately using recycled material."
Packaging made from recycled plastic materials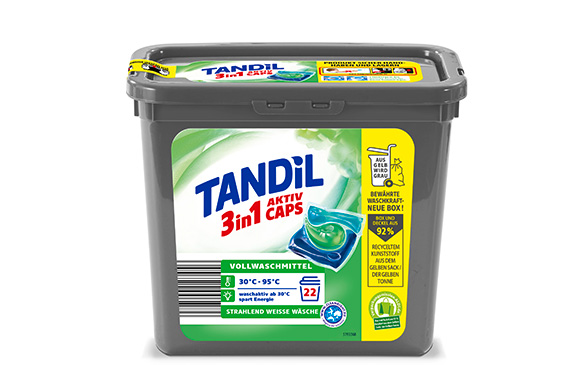 A clear example of this is the new packaging of ALDI's classic detergent. For decades, the discount store has sold the successful own brand Tandil that is raising the bar – not only in terms of getting clothes, clean but also as regards sustainability. "When redesigning the packaging for Tandil 3-in-1 Active Caps and the Colour Caps, we worked closely with the Interzero subsidiary Interseroh+ to make full use of its dual system", said Alexander Markov, Managing Director National Supply Chain Management at ALDI SÜD.
"Our goal was to have packaging that directly reuses plastics from the yellow bag or yellow bin, thus closing the material cycle. This is the reason we formed the Recycling Alliance with Interseroh+ in 2022." One outcome, among others, is the new packaging boxes, which will be rolled out in numerous ALDI Nord and ALDI SÜD stores from the middle of this year. The containers are almost completely (92 percent) made from recycled polypropylene1. Based on the volume of sales at ALDI Nord and ALDI SÜD in 2022, the change could save around 60 metric tonnes of new plastic per year.
1 The remaining 8 percent comprises fillers/additives needed to stabilise and process the material. The recycled share of 92 percent relates to the packaging, except for the labels.
Less colourful, more sustainable
This step is not quite as easy as it appears at first glance. After all, the lightweight packaging that enters the sorting facilities differs with each truckload, so the quality of the sorted fraction also varies. However, the quality is what determines whether the polypropylene can be processed at the packaging manufacturer. The challenge was therefore to produce packaging that was both environmentally and economically sustainable using recycling processes and processing methods that were as lean as possible. "One of the things that helped us was the decision to produce the Tandil box in a standard grey instead of different colours, which avoids time-consuming colour sorting", Alexander Markov explained. "Going forward, heavy-duty detergent and colour detergent will be differentiated by the label rather than the colour of the whole box.
This step will reduce effort and costs at multiple levels and underpin our understanding of discounting and sustainability." The high quality of Interzero's sorting facilities was not the only reason behind the decision to collaborate with Interseroh+; ALDI was also keen to take advantage of the wide range of services its partner offers: "The overall package of licensing and joint development of packaging for our own brands is highly compelling", Arne Ringkowski said. "Interseroh+ and ALDI bring stakeholders together throughout the value chain, allowing every-one to contribute at various stages. All of these are essential requirements for a functioning circular economy."
Our experts for
Plastics Innovations and Sales packaging recycling
Dr. Manica Ulcnik-Krump
Managing Director Interzero Plastics Innovations, Head of R&D
+38 626130004
Frank Kurrat
CSO Interseroh+ GmbH