To Top
Pannier reloaded: a product that contains the future!
The first bicycle pannier made entirely from recycled material: a complete success for the outdoor brand VAUDE. How did the project go and how will things continue?
VAUDE has long since been a pioneer in the field of sustainability: the company has been working with its Green Shape metal label to eliminate pollutants in the supply chain since 2010. VAUDE now works with Green Shape 3.0, which includes further criteria such as material efficiency, repair capability and recycling content. The next goal? The circular economy. And that was how VAUDE came into contact with Interzero – with an ambitious goal: a bicycle pannier, the key materials of which consist entirely of recycled materials. A challenge, after all: a bicycle pannier has to endure a lot: extreme temperatures, UV irradiation, shock and impact.
Shaping sustainability together with strong partners – bit by bit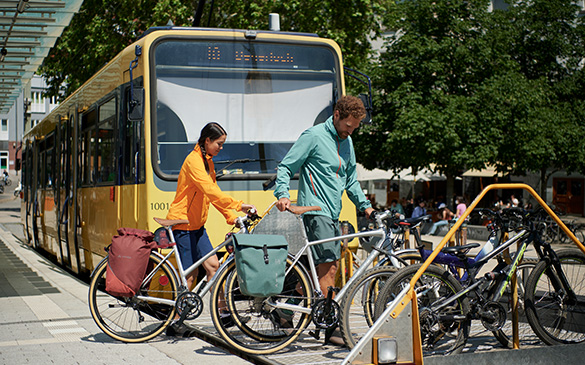 For that reason, the VAUDE innovation team turned to Interzero. To fulfil these special requirements, Interzero has developed a polypropylene recompound especially for VAUDE: the attributes of this unique new recipe have not yet been achieved, even with the modification of new products. The idea of a completely recycled bicycle pannier became a reality within two years – and that's just the beginning: as one third of all the packaging waste which is generated in Germany is processed by Interzero Plastics Recycling. In addition to the high availability of the raw materials, as a partner, Interzero also convinces by increasing the quality of the recyclates. At the same time, VAUDE is expanding its own sustainability goals: by 2024, at least 90 per cent of all VAUDE products are set to use materials which are predominantly from recycled or organically-based (renewable) raw materials.
Our expert for:
recycling-friendly packaging