To Top
Recycled raw materials for industry – quality at first hand
Interzero: Your partner for the extraction and marketing of high-quality recycled plastics
The worlds of politics and industry are increasingly focusing on the use of recycled plastics to relieve the climate and reduce the dependence on new products which are based on crude oil. The global trade in waste plastics and recyclates is therefore gaining in importance. The specialists at Interzero Plastics Recycling offer a full range of services surrounding the extraction and marketing of recycled plastics from one single source. We are therefore able to respond flexibly to the requirements of our customers – and can provide materials of consistently high quality for the plastics processing industry which fulfil their requirements.
Waste becomes raw materials: industry and close to home collection of recyclables
Interzero purchases and sells waste plastics in many countries. In Europe, we have several transhipment points for retail business with recycled plastics – on this basis, we handle about 400,000 tonnes of raw materials, including film and foil products, rigid plastics, PET bottles and EPS every year. The marketed quantities originate from both the collection of recyclable materials (yellow bin/recyclables bin and/or yellow bag/recyclables bag) and from industrial companies.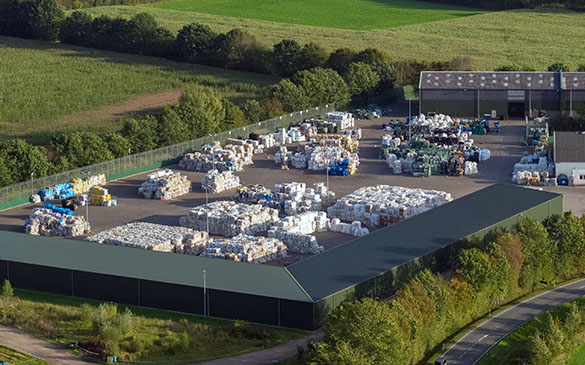 With our five high-tech sorting units we are market leader in Germany for sorting of LWP waste streams. Here we process lightweight packaging originating from the dual systems. With r.a. 810.000 tonnes of sorting capacity per year Interzero is an established and strong partner in the waste management and recycling industry and provide partners with recyclable materials of all LWP fractions. Thanks to our long lasting experience we can ensure, that legal requirements such as notifications for instance are respected and waste streams are delivered in a legally compliant manner to our customers. We only market volumes from the collection of recyclable materials (yellow bin/recyclables bin and/or yellow bag/recyclables bag).
Thanks to the close cooperation between our sales teams and our sorting units as well as external partners, we ensure that the sorting units are managed in the most efficient way. Additionally we secure access to the relevant fractions for our own recycling sites but also for our established partners.
Our experts
Valerie Bürstner
Sorting output: LDPE, HDPE, PP, PET, PS
Peter Maerz
Commercial waste: LDPE, HDPE, PP
Our experts
Romed Aspmair
Bales, regrind, granulates: PET, EPS
Ulrich Kückelmann
Granulates, compounds: LDPE, HDPE, PP

Specialising on innovations – Interzero plant technology
Lightweight packaging, polystyrene or kraft paper recycling