To Top
State of the art technologies for high-quality recycled plastics
From sorting to processing – Interzero uses the latest technology to close the loop.
Whether it is used packaging or production residues: at Interzero, waste plastic becomes needs-based raw materials for industry. We have wide-ranging expertise in the field of plastics recycling – and can realise all of the processing steps at our in-house sorting and processing facilities.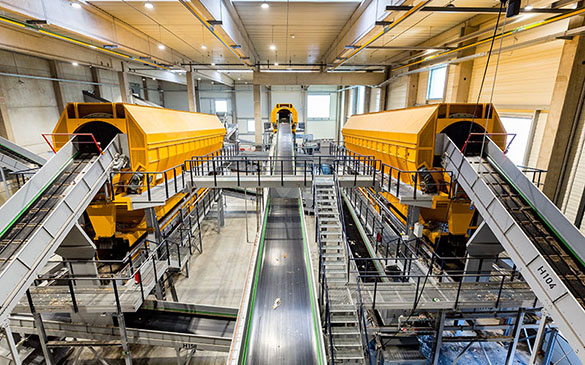 Sorting of lightweight packaging
Interzero is the leading supplier of sorting services for lightweight packaging (LWP) and mixed recyclables in Europe. Adapted to the requirements of our customers, we process packaging from the collections of the dual systems in Germany as well as materials from the neighbouring European countries. We use the latest sorting technology at our in-house high-tech facilities.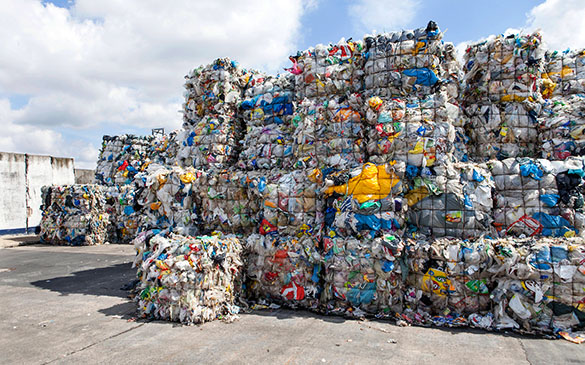 Sorting performance in figures
We currently operate five of the largest sorting facilities for lightweight packaging and mixed recyclables in Germany; these are also among the most modern facilities in Germany. They have a total sorting capacity of 810,000 tonnes per year.
Our locations at a glance:
Walldürn (plant capacity: 220,000 tonnes/year)
Berlin (plant capacity: 140,000 tonnes/year)
Braunschweig (plant capacity: 140,000 tonnes/year)
Marl (plant capacity: 200,000 tonnes/year)
Leipzig (plant capacity: 110,000 tonnes/year)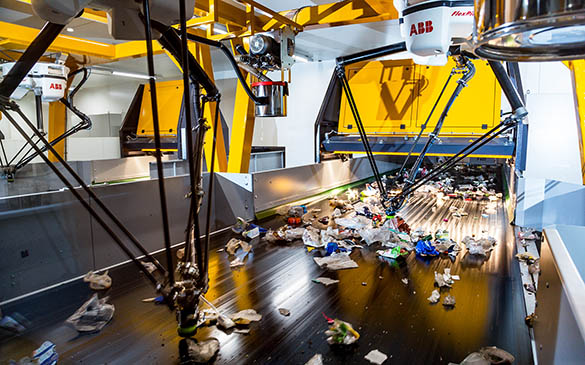 Innovative technology in use
To secure the valuable recycled raw materials as efficiently as possible, to further improve the quality and to fulfil the increasingly strict legal requirements, Interzero is pushing ahead with the automation of its facilities, making use of state-of-the-art digital technologies. In our sorting processes, we also work with near-infrared technology (NIR): NIR cameras scan the conveyor belts and identify the differing plastic fractions in a fraction of a second. Blasts of compressed air are used in order to separate the required types of material. This creates groups of substances which are at least 90 per cent homogenous. In addition to this, the sorting of LWP is already benefiting from the use of artificial intelligence and sensor technology. In this context, Interzero has installed sorting robots and uses a deep-learning system which clears the stream of plastics of disruptive silicone cartridges with high precision.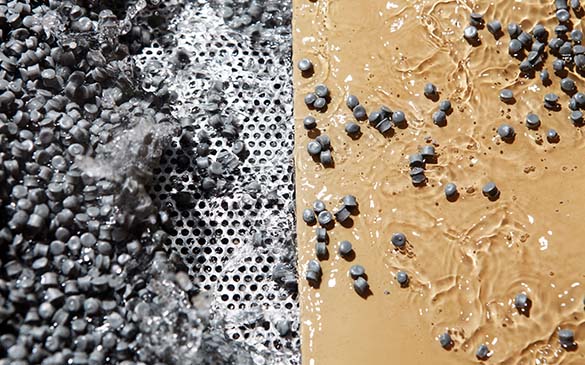 Made-to-measure sorting
With its award-winning Recycled-Resource process, Interzero closes the loop for used plastics. At our processing plant in Eisenhüttenstadt, we manufacture the recycled plastics Recythen and Procyclen with the use of our specially-developed treatment process. The melting and compacting of the introduced plastics yields marketable granulates which can be adapted individually to the requirements of industry. In many areas, these granulates are already replacing primary raw materials based on crude oil – and are making a clear contribution to climate and resource protection.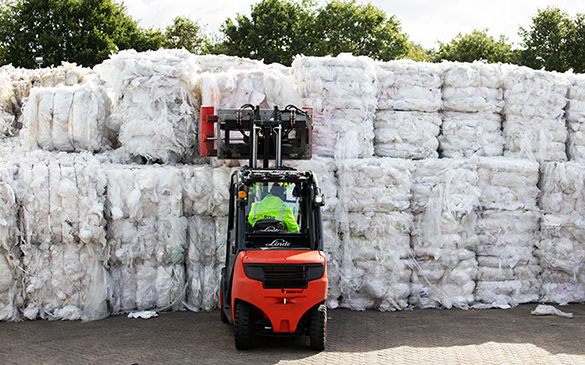 Recycling of production waste
We don't just provide the appropriate recycling systems for packaging, we also do the same for production residues, reject batches and start-up lumps which arise in the plastics processing industry. In addition to shredders and granulators that are used in order to crush material, we also have a wide range of separating and washing systems to separate the required plastics as cleanly and homogenously as possible. For the further refinement, we use state-of-the-art extruder technology – which enables the waste to be returned to the production cycle as quality-tested recycled raw materials.

Specialising on innovations – Interzero plant technology
Lightweight packaging, polystyrene or kraft paper recycling