To Top
Broad portfolio of recycled plastics: LDPE, HDPE, PP, PET and EPS
In three of our recycling plants, granulates are produced according to customer specifications. With an award-winning process Interzero closes the waste plastic loop – conserving valuable resources and protecting the environment.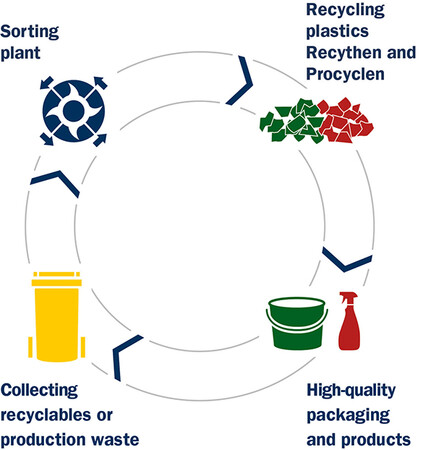 In three of our recycling plants (Eisenhüttenstadt, Liebenau and Aschersleben) we process different fractions and polyolefin types to sorted recycled plastics. Our focus is clearly on LDPE, HDPE, PP, PET as well as EPS. In our unit in Eisenhüttenstadt we primarily use plastic packaging on polyethylene (PE) and polypropylene (PP) basis to sorted recycled plastics for the plastics processing industry. There we also produce our regranulate procyclen, which can be individually adapted to the customers' needs.
With the units in Liebenau and Aschersleben we complete our offering. In Liebenau we produce LDPE regranulates which we market as sorted and high-quality recycled plastics to the processing industry. Furthermore we plan a new extrusion line for PET in 2023, that will secure the loop to rPET for the retailing businesses. In Aschersleben the focus is on EPS. Here we process EPS in recycled form for a broad range of applications – from consumer goods up to construction applications. Our product portfolio covers regranulates but also grinding material for the processing industries.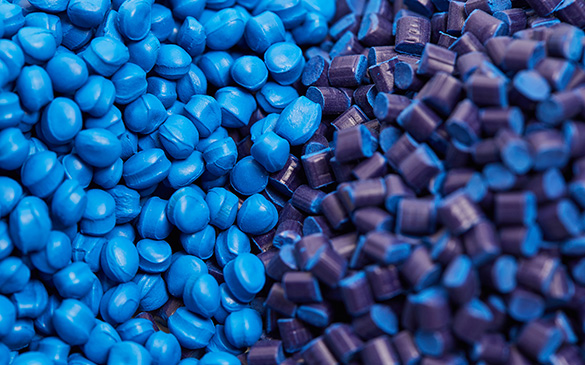 We source the raw materials for our recycled plastic products mainly from domestic-quality waste collection, which mostly consists of polyethylene (PE) and polypropylene (PP) packaging. Our granulate, Recythen, can be used for manufacturing products such as cable reels, garden furniture, drainage pipes and cable conduits.
Procyclen is an award-winning, customisable recompound. By altering its formulation, Procyclen can be matched to customers' exact requirements in terms of fluidity, stability, UV/thermal resistance and colouration. Just like a new, petroleum-based raw material, Procyclen is able to meet the same kinds of rigorous requirements for new products or packaging, and can also be used in injection moulding or extrusion processes. Manufacturers using Recythen or Procyclen in their plastics products can apply for the "Blue Angel" eco-label – and thus acquire a key differentiator.
Saving the environment with regranulates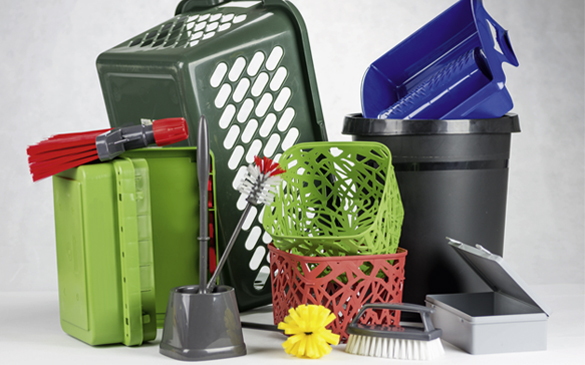 With recycled plastics from Interzero, you help conserve resources while also reducing greenhouse gas emissions: as shown in a recent study by Fraunhofer Institute UMSICHT, based on data from 2020, Procyclen and Recythen improve your environmental footprint.* On average, 59 percent fewer climate-damaging emissions are recorded and the consumption of primary energy can also be significantly reduced.**
Impressive figures – and we are working hard on further improvements to these positive environmental effects: with the latest generation of Procyclen, greenhouse gas savings can now be as high as 50 per cent, since manufacturing now takes place in just a single process step and also requires less energy. This conserves resources and makes the process even more cost-effective.
* Calculation based on the life cycle assessment standards ISO 14040 and 14044. The reference technologies meet the very latest technical standards. All results are based on 1 tonne of granulate in each case. ** Assuming consumption of 0.19 kWh per wash. This is equivalent to EU Energy Efficiency Class A.
Technological Innovation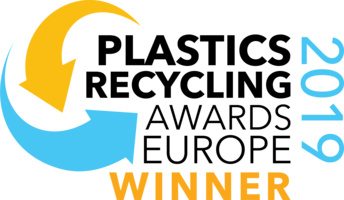 This all ist possible due to the innovtive cascade extrusion system COREMA®, which allows the manufacturing of customised recycling compounds for exceptionally high-quality applications in just one processing step. And this innovation is already award-winning: In April 2019, the PRSE Award in the category "Recycling Machinery Innovation of the Year" was given to the environmental services provider Interzero and the technology manufacturer EREMA.
Award-winning performance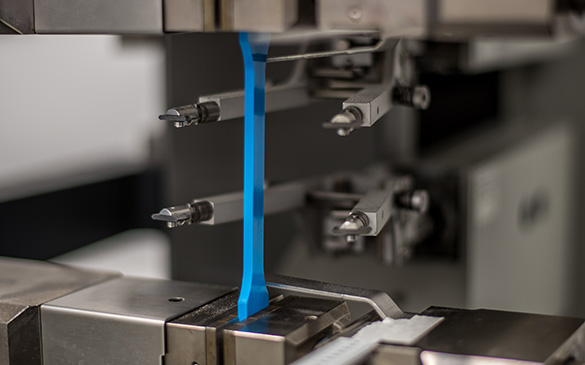 Interzero's plastics recycling has not only attracted an impressive and steadily growing number of manufacturers and dealers.
Plastics Recycling Awards Europe 2020
Nominated in the category "Household & Leisure Product of the Year" for FALK Chair together with HOUE Design ApS
Plastics Recycling Awards Europe 2018
Nominated in the category "Best Recycled Plastic Packaging Product" for reusable mail system "memo Box" from the memo AG

Nominated in the category "Plastics Recycling Ambassador of the Year " – Individuals who have made an outstanding contribution to plastics recycling – is Dr. Manica Ulcnik-Krump, Managing Director Competence Center Maribor
Additionally, we combine our research and development activities in the field of plastics recycling in our centre of competence in Maribor, Slovenia. In March 2020 we received the official international accreditation. This makes our centre of competence the only recognized research institution in the EU specializing in the development and analysis of recycled plastics. It thus sets standards throughout Europe in the implementation of uniform quality standards.
Trusting partners of Interzero
Our expert for
Regranulates
Dr. Ulrich Kückelmann
Granulates, compounds: LDPE, HDPE, PP
Romed Aspmair
Bales, regrind, granulates: PET, EPS

Sustainability Magazine
A world without waste. Our strategy gives us the framework for turning this vision into a reality. So that we focus consistently on what's important.