To Top
EPS recycling: small and spherical, with great potential
Aschersleben: where quality-tested polystyrene regranulate and grinding stock from used polystyrene packaging are made
Expanded polystyrene (EPS) consists of 98 percent air and 2 percent solid recyclable material. This provides the best conditions for sustainable, mechanical recycling. Our plant in Aschersleben specialises in the recycling of these versatile spherical pieces of plastic: here, polystyrene regranulate and grinding stock are produced from waste packaging – among others, for use in the insulation industry and the construction sector.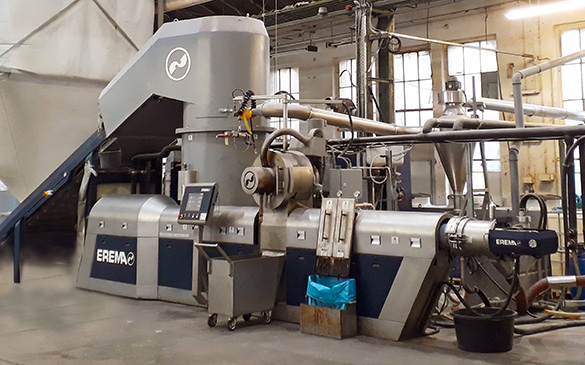 Polystyrene regranulate from the extruder
Our facility in Saxony-Anhalt has now been recycling EPS packaging waste since 2003. At present, almost all types of EPS can be processed, whether uncompressed moulded EPS components, bales, or maximum-compressed EPS in the form of rods or briquettes. The facility has two processing lines and a high-performance, modern extruder for the manufacturing of polystyrene regranulate. During the extrusion process, the EPS which is crushed in the shredder is melted down, homogenised, aggregated and pressed through a nozzle, before being cut into a lentil-like shape. The regranulate which results is mainly used for the production of insulation boards made from extruded polystyrene foam (XPS).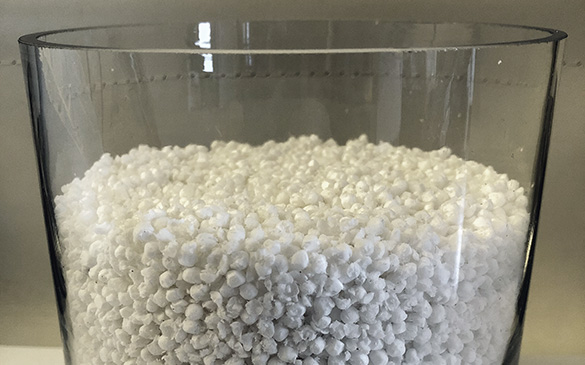 Sustainable construction with EPS grinding stock
Another mainstay of the plant in Aschersleben is the manufacturing of grinding stock – a product which is pretty much tailored to the customers' requirements: With the use of specialist shredders, it can be produced in different grain sizes and provided with additives. High-quality, untreated grinding stock, for example, is used by brick manufacturers as an additive in the unfired clay mass. When the bricks are fired, the EPS evaporates and leaves small cavities in the brick, which in turn provide for a good thermal insulation effect.

Recyclables trade and products