To Top
Mobile counting centres – our innovative solution for disposables carriers
Developed to reduce your logistics workload: the "bottle hunter and gatherer" trucks
The mobile counting centres (MCC) from Interzero respond to the requirements of the retail trade with certainty. Our innovative concept: the complete technology for the collection and sorting of the disposables containers is integrated into an HGV with a trailer. This allows the mobile counting centres to be used wherever they are required – near large-scale warehouses for the retail trade, for instance. A clear benefit for our customers: the on-site solution partly eliminates the need for high-cost deliveries to stationary counting centres. Businesses can save on their logistics expenses and improve their climate footprint. It goes without saying that the MCCs fulfil every requirement of the German Deposit System (Deutsche Pfandsystem GmbH / DPG). They are therefore a fully-serviceable alternative for businesses which don't have their own take-back machines for disposables carriers.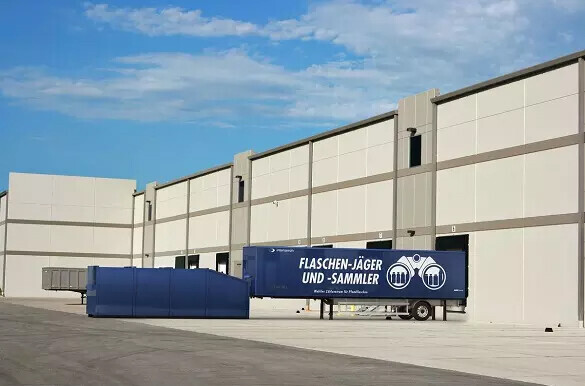 High-tech systems in a compact format
Since the first "bottle hunter and gatherer" truck hit the road in 2016, Interzero has focused on further optimising the sorting technology in particular: whether it is coloured or clear PET bottles, aluminium cans or glass containers, the mobile counting centre can count over 100 empty disposables carriers per minute, register them, sort them according to the materials and process them into marketable recycled raw materials. All the key figures are recorded, monitored and evaluated in the MCCs in the same way as they are at our stationary counting centres. The clear allocation of the disposables carriers is therefore guaranteed – and, of course, the correct settlement of the deposit money.
A stationary service or an on-site counting service – our customers have the choice. Place your trust in one of the most experienced service providers in the German DPG system, with a high-performance network for logistics, counting services, recovery and deposit clearing.

Single-use beverage container deposit: solutions for distributors and take-back firms