To Top
Our pillars and core tasks
The business model of Interzero is essentially based on the pillars: sustainable closed-loop solutions and innovative plastics recycling.
Wide-ranging expertise in plastics recycling – that's what the corporate division Interzero Plastics Recycling (IPR) stands for. As an innovation leader in this area, we cover all of the closed-loop processes and technologies, from intelligent collection systems, to high-tech sorting plants, through to the production of recyclates.
Development and operation of recycling and production facilities
Extraction and marketing of high-quality recycled raw materials
Centre of competence for the manufacturing of high-quality plastic recyclates
Sustainable closed-loop solutions – analogue and digital – are the task of the Interzero Circular Solutions (ICS) division. Our experts develop customised circular concepts – with the consistent goal of the prevention of waste or its use for new applications:
The organisation of worldwide take-back systems for packaging, products and an exceptional variety of materials
Development of individual overall solutions for companies
Consulting services on waste prevention and design for recycling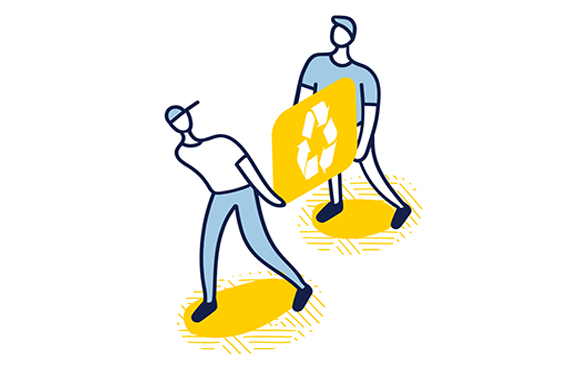 Our Interseroh+ dual system is the connecting element of the overall concept. The innovative offer from the "Recycling Alliance" addresses all companies which not only want to fulfil their legal obligations surrounding packaging licensing, but which are also keen to take responsibility for closing recycling and raw material loops.
The universal focal points in all pillars and business areas are digitalisation and the provision of digital platforms, the topic of innovation, as well as a nationwide network of service, waste management and recycling partners.
Your advantages at a glance
Individual advice

Full service environmental services

Holistic recycling and closed-loop management from one single source

Access to innovative technologies and recycled raw materials

Digital platform and strong networks

Competitive advantage through efficient, sustainable solutions
Trusting partners of Interzero