To Top
Closed-loop CHAMPIONS
Pöppelmann TEKU is a global manufacturer of plant pots made from Interzero's recycled plastics.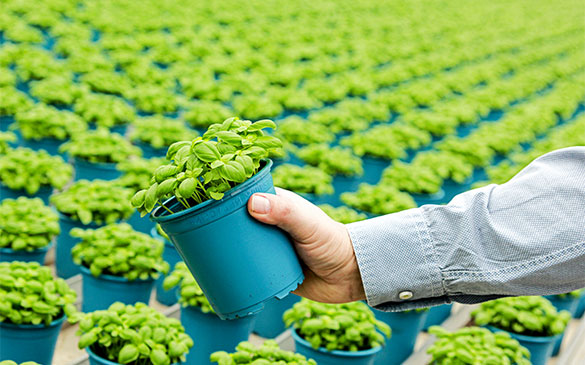 If you've ever grown fresh herbs in your kitchen, you'll already be familiar with Pöppelmann's handy little plant pots. This family-run business from Lohne is the market leader in plastic pots for commercial growers – and now also a pioneer in the use of recycled materials. "A few years ago, no-one was really talking about plastics recycling like they do today", recalls Lukas Scheeben, Team Lead Strategic Sales at Pöppelmann.
"But we made the most of our market position to make an early start here. Thanks to our partnership with Interzero, we now have a complete range of plant pots whose plastic is 100% sourced from recycled polypropylene. And demand for these has really grown, as consumers now want truly sustainable products – even in gardening."
Reliable material quality
With its PÖPPELMANN blue® initiative, the company has set the standard to follow when it comes to closing material loops. One highlight of this project is the Circular360 product range, whose PCR polypropylene is sourced from the dual system domestic recyclables collections, with the overall product also being 100% recyclable. It can simply be disposed of using the standard yellow bags and bins. Unsurprisingly, a study from Fraunhofer UMSICHT has given the Pöppelmann plant pots full marks in terms of closed-loop compatibility, resource conservation and climate protection.
The production process at Pöppelmann specifies stringent quality requirements for its Recythen PP: quantified, tested, reliable and reproducible material quality forms the basis for the Interzero and Pöppelmann partnership. Since certification is a key aspect of the material loop, Interzero ticks all the boxes with its European Certification of Plastics Recyclers (EUCertPlast) certification and the proof of a 100% PCR proportion in its Recythen PP. Quality managers at the two companies also work closely together to compare and modify their inspection methods to ensure these tough requirements are met.
A perfect match for the product
The company has been working with Interzero since 2018, and Pöppelmann's sustainable plant pots are now available all over the world. "Our pots are real closed-loop champions", comments Lukas Scheeben. "It's a perfect match for our products. When it comes to developing pioneering plastics solutions that save resources and the climate, Interzero is our ideal partner."
Our expert for
Regranulates

Sustainability Magazine
A world without waste. Our strategy gives us the framework for turning this vision into a reality. So that we focus consistently on what's important.