To Top
Take-back of transport packaging
Register conveniently and quickly.
The principle of product responsibility means producers placing transport packaging in accordance with the Packaging Act on the market are obligated to ensure its proper recycling (§ 15 Packaging Act). Established in 1991, Interzero is now one of the leading providers of services for the take-back and recycling of transport packaging.
We also provide competent advice on the new registration obligation for transport packaging from 1 July 2022. The new registration process in the LUCID packaging register of the Central Agency Packaging Register (ZSVR) started in May 2022.
Convenient licensing of transport packaging? Go to your offer here: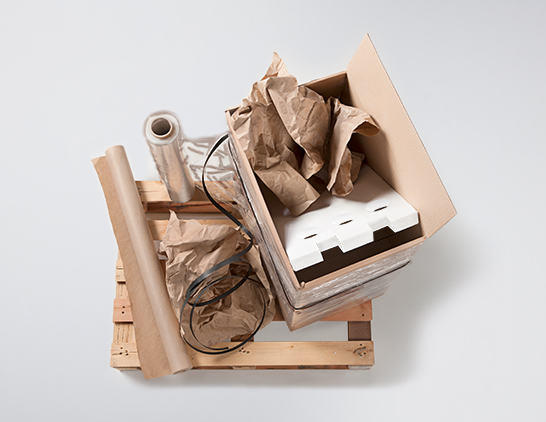 Do you regularly place transport packaging on the market as a manufacturer?
If so, Interzero is your ideal partner: our tailor-made solutions for handling the pick-up and efficient recycling of used transport packaging from trade, manufacturing and commerce now serve around 20 different industries like construction and furniture provider as well as the sanitation and heating sector. Learn more about your advantages here.
Nationwide take-back
Wherever used transport packaging is generated, we utilise our nationwide network of around 600 certified waste management partners throughout Germany to handle the take-back and recycling of transport packaging made from any and all materials. More about this in our brochure.
Interested? Just ask for a quote.
We would be happy to make you an non-binding offer for the licensing of your transport packaging with Interzero. You can simply use our request form. Our sales staff will contact you with an attractive offer, which will also put you in a good position for the anticipated registration obligation under Section 9 of the Packaging Act.
Recycling of transport packaging with Interzero
Your benefits at a glance
High-performance

We handle over two million waste management transactions per year – for over 4,000 customers.

Forward-looking

As a market leader, Interzero sets standards in the fields of quality, customer orientation and innovative recycling technologies.

Cost-effective

There are no flat fees at Interzero. Our prices are fairly and transparently based on the packaging volumes put into circulation.

Compliant

As a manufacturer, compliance with the Packaging Act is guaranteed with Interzero as your partner.

Sustainable

Every year, our customers receive a Resource Protection Certificate as confirmation of their active environmental management.
Trusting partners of Interzero
Our expert for
Recycling of transport packaging
Maarten van den Berg
Head of Sales
Frequent questions of our customers