To Top
Going ALL IN
Our recycled plastics are being turned into new products worldwide.
Recycled materials from Interzero already cover a wide range of products and many other use cases are still possible. The recyclable materials from domestic yellow bins are being used to make new plant pots, paint tubs, baskets and crates for logistics, for example. Even parts for sustainable biogas plants are now based on recycled plastics from Interzero: in Mönchengladbach, technoplast Kampes GmbH has developed an important plastic component for use in biological desulphurisation plants.
"Biogas production generates hydrogen sulphide, which needs to be removed in the biogas plant", explains Dr Achim Kampes, Managing Director of this family-run business. The packing material used here consists of many cross-struts, whose surfaces are then colonised by specialised bacteria that can split hydrogen sulphide and separate it from the biogas. Kampes: "If I want to make a part like this using injection moulding, I need a homogeneous material with good flow properties. Interzero supplies us with a polypropylene recyclate that is highly uniform. Material properties are extremely consistent and, as another huge advantage, the plastic has virtually no odour."
Made-to-measure properties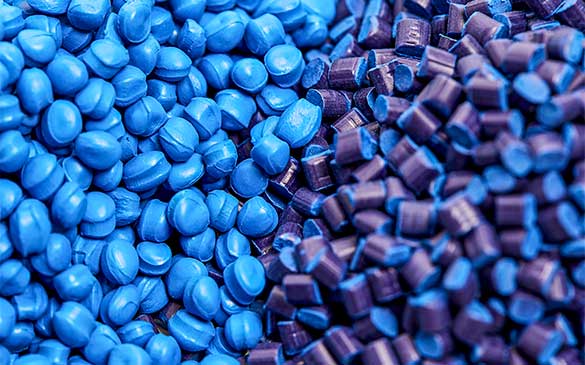 As an industry pioneer, Interzero takes a cradleto- grave approach to plastics. "We start with the lightweight packaging stream from the dual systems", explains Dr Ulrich Kückelmann, Senior Sales Professional at Interzero. "Our sorting plants provide us with certain fractions, like polypropylene (PP), for example. This material is then shredded, cleaned and separated again at our processing plant in Eisenhüttenstadt. The final product is a granulate raw material for use in the plastics industry."
This high-performance sorting plant can produce various recycled plastics. Kückelmann: "We always have the option of adjusting material properties to meet customer needs. We can also include certain additives to make the plastics more flexible, more stable or easier to shape."
Our expert for
Regranulates

Sustainability Magazine
A world without waste. Our strategy gives us the framework for turning this vision into a reality. So that we focus consistently on what's important.