To Top
IT refurbishment: A new life for old technology
Laptops, PCs, tablets and phones: Interzero refurbishes equipment taken out of service by companies. Energy company EnBW recently made use of the service – and is making a contribution to climate protection as well.
Protecting the climate requires both radical change and a change in perspective. Much of this means digitalising the world of work – an approach energy company EnBW had pursued even before the pandemic. Between 2018 and 2020, the company equipped all of its staff with the latest, technically advanced equipment. But what was to be done with the old, phased-out hardware? The last thing EnBW wanted was to see the raw materials in the old PCs, laptops and phones go to waste.
Getting IT equipment back into shape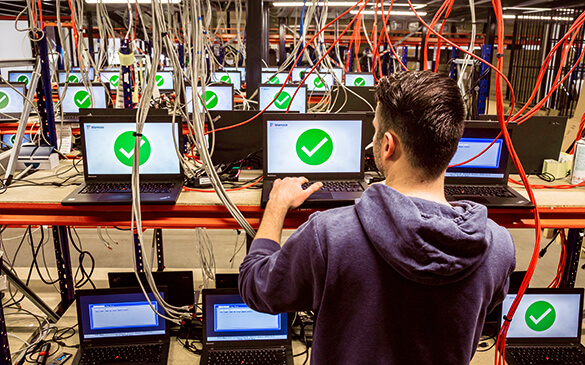 Interzero accepted the order. The environmental services provider picked up the old equipment and organised its safe transportation and the erasure of data. The next step was to get the IT devices back into shape and ready for resale on the company's own online shop at gebrauchte-technik.de and via wholesalers.
Climate protection that pays its way several time over
Refurbishment is also financially worthwhile – both for EnBW and for the ultimate buyers of the used equipment. And of course the environment benefits as well. The resources SAVED certificate issued by Interzero is proof in black and white: Simply by refurbishing its old electrical equipment, EnBW managed to save 2,463 tonnes of primary raw materials plus 1,870 tonnes of greenhouse gases. This calculation is based on a study authored in 2018 together with experts from Fraunhofer Institute UMSICHT on the potential savings achievable by IT refurbishment.
Your expert for IT refurbishment
Benedikt Konradt
Head of Purchasing Interzero Product Cycle GmbH