To Top
A convenient, all-in-one solution
At the start of the year, the EINFACH MEHRWEG deposit return system from Interzero and Sykell was launched nationwide in REWE supermarkets, where it's helping to save plenty of single-use plastic.
Reverse vending machines are pretty clever. New types of bottles can simply be programmed in so that the machine detects them and pays out the right total deposit. Exploiting this principle for reusable coffee cups and food trays is a real game-changer for sustainability. This is the idea behind the EINFACH MEHRWEG system that Interzero has developed with the Berlin-based start-up Sykell. Our partner Sykell designed reusable containers that are compatible with standard reverse vending machines, while Interzero handles all of the logistics, as well as container cleaning and (later) recycling.
A new legal environment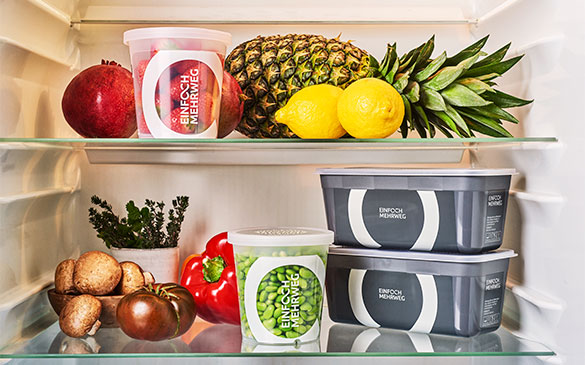 The project was triggered by new provisions in the German Packaging Act, which entered into force on 1 January 2023, with restaurants and retailers offering out-of-home sales now being required to provide a returnable solution for packaging. "Our EINFACH MEHRWEG system follows the approach of extending the obvious benefits of the established deposit infrastructure for beverages to other kinds of products and food categories", explains Sykell's CEO and Founder Davide Mazzanti.
"The scaling up of our integrated solution has been supported by our strategic partner Interzero, who not only offers long experience in return logistics but is also providing us with high-performance cleaning systems."
Nationwide rollout of EINFACH MEHRWEG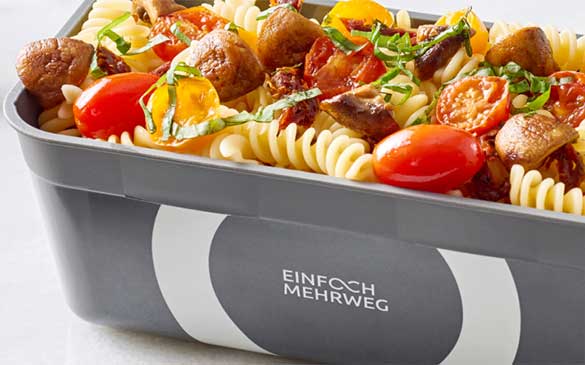 Early this year, EINFACH MEHRWEG was launched nationwide in thousands of REWE supermarkets, Which offer takeout food at salad bars and soup counters, for example. The reusable containers are also suitable for pre-cut fruit and vegetables, and the ubiquitous coffee-to-go. Customers pay a small deposit for the containers at the till.
Returns and deposit refunds are handled by each participating supermarket either manually or with reverse vending machines.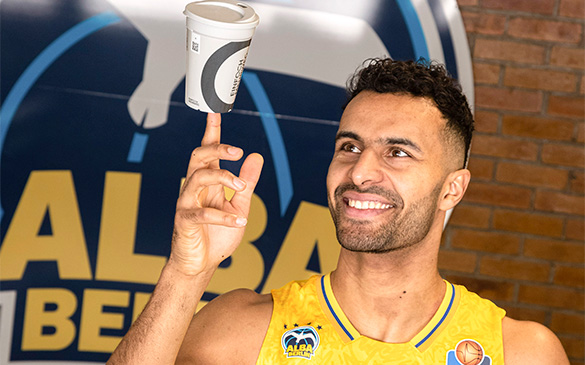 Climate action needs teamwork: Trips with the basketball team are now even greener for Johannes Thiemann from ALBA BERLIN.
"We support return schemes as they are more beneficial for the environment than disposable alternatives. To be successful in the long term, however, the scheme needs to be highly efficient and convenient for consumers", stresses Peter Maly, Management Board member and Chief Operating Officer of the REWE Group, who is responsible for logistics and supply chain management for REWE in Germany and across the Group.
"EINFACH MEHRWEG is such a solution, which we developed together with our partners. It enables flexible use of the containers and cups for our customers in our stores. Due to the open system approach, it is in the company's interest to have more retailers join the reusable scheme, so that customers have as many return points as possible and reusable products are widely accepted – making the solution even more sustainable."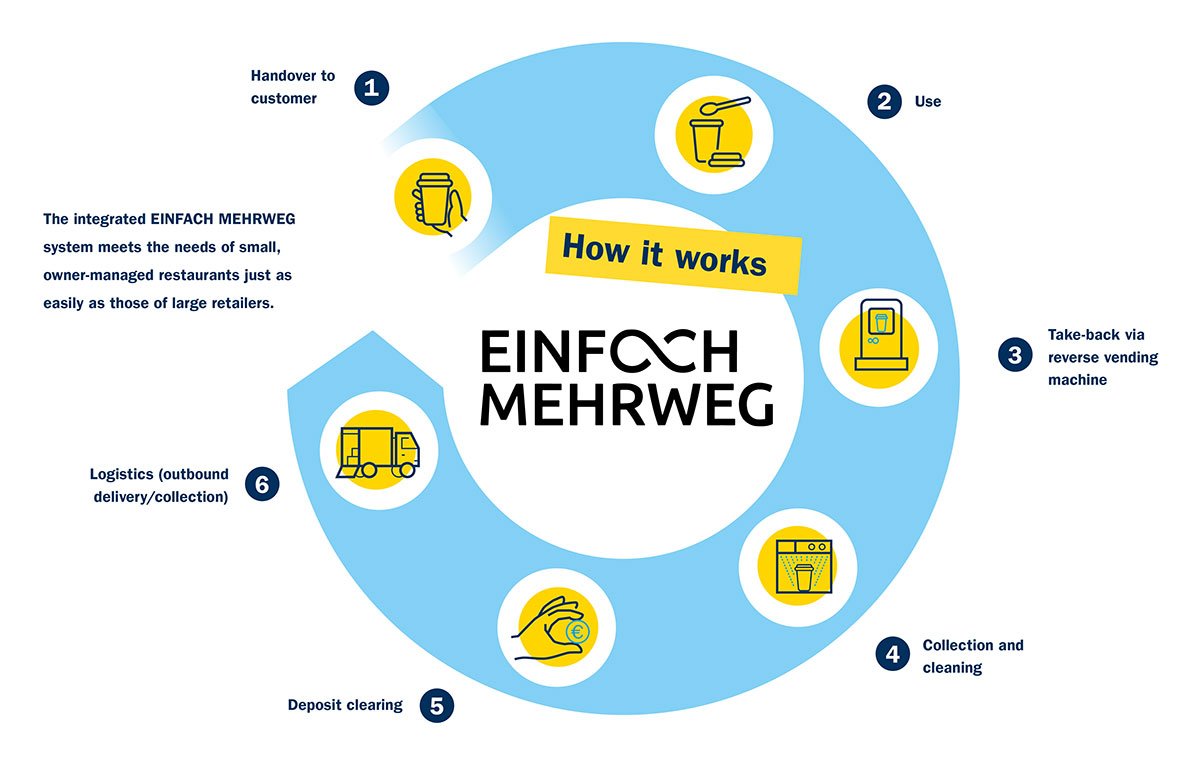 350 million tonnes of single-use plastic saved
For consumers, it's now easier to live more sustainably and avoid creating waste. And this is what Sykell, a start-up formed in 2021, is all about. "We want to put an end to the 350 million tonnes of single-use plastic produced every year", says Davide Mazzanti, CEO and Founder of Sykell. "We simply can't stand idly by and watch our mountains of waste grow higher and higher. Our EINFACH MEHRWEG containers are permanently reusable and therefore prevent millions of tonnes of plastic packaging from being produced and ending up in the environment."
Our expert for
Reusable solutions
Carolin Kollig
Head of Business Unit Interzero Pooling Cycle and reusable solutions expert