To Top
An example to follow: ALDI is improving its packaging
ALDI's new packaging mission has set some ambitious goals for its own-brand products in terms of their recyclability and the material efficiency of the packaging used.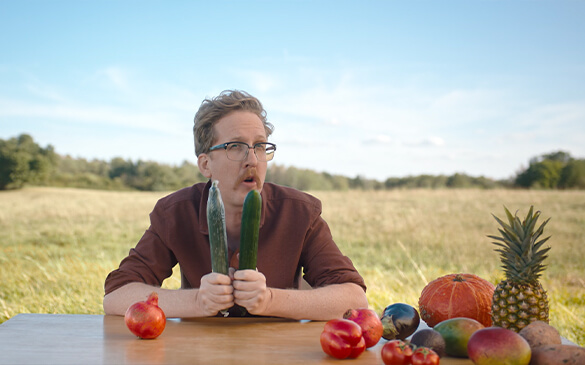 ALDI Nord and ALDI SÜD have joined forces to concentrate their efforts on effective solution strategies for packaging. Compared to 2015 figures, the two companies are looking to cut packaging weights by 30 percent by 2025. Where packaging really is necessary to ensure product quality or to avoid food waste, the packaging should be recyclable when properly disposed of. The goal is to make all packaging for ALDI's own-brand products recyclable by 2022. This approach enables the efficient conservation and economical reuse of resources, which is a key contribution to achieving a circular economy.

ALDI has seen some initial successes in this context as it is the first retailer to dispense with cucumbers shrink-wrapped in plastic without compromising on freshness in 2019. This saves both discount chains up to 120 tonnes of plastic a year.
Spotlight on packaging: a quick and simple tool
Interzero carries out an ecological assessment of the current recyclability of ALDI's packaging based on its new 'Check for Recycling' service. "This quick, straightforward evaluation gives us an idea of where we are at the moment – and where we need to focus our efforts," explains Dr Julia Adou, Director Corporate Responsibility at ALDI SÜD.

Using the online tool couldn't be easier. Customers of the dual System Interseroh+ simply upload a photo of the packaging and enter the necessary details for materials used, dimensions and weight. The tool provides them with an automated evaluation. ALDI then focuses its attention on the types of packaging that are rated as being less recyclable than the others.
Here you can access the Check for Recycling online tool.
Focus on the consumer
Good recycling depends on proper separation. This is why numerous packagings bear the 'ALDI Packaging Mission' logo. This logo clearly indicates which packaging has been optimised for sustainability. All packaging also includes ALDI's easy-to-understand guide to separating waste – i.e. which bin for which part of the product packaging – to ensure that packaging is disposed of properly by consumers. "This is how we help to ensure that consumers can sort packaging waste as easily and effectively as possible to enable proper recycling," Dr Adou concludes. German actor Uke Bosse, the face of the campaign, explains how to separate waste properly