To Top
If it's packaged, make sure it's eco-friendly!
When out shopping, check for packaging with the 'Made for Recycling' label.
That's right: sustainable alternatives to conventional packaging that avoid waste and protect the environment are available. But as a consumer, how can you tell whether or not packaging is recyclable? The 'Made for Recycling Interseroh' quality seal is a good guide for the environmentally-conscious shopper.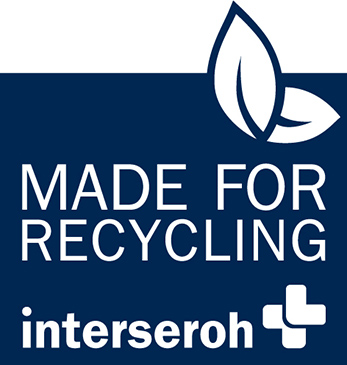 'Made for Recycling Interseroh': Packaging bearing this quality seal has been proven to have good or very good recyclability.
To analyse packaging recyclability, Interzero uses an independent, science-backed assessment method developed together with the bifa environmental institute, which has been evaluated and approved by experts from the Fraunhofer Institute for Process Engineering and Packaging (IVV). The method looks at aspects including the recyclability of the materials used, how easy these are to sort and how the packaging is disposed of. Packaging that receives more than 18 of 20 possible points according to this assessment method actually exceeds current minimum legal requirements and can display the 'Made for Recycling Interseroh' quality seal.
This is how our experts work out whether a piece of packaging is allowed to use the 'Made for Recycling Interseroh' seal:


Keep your shopping sustainable: introducing packaging that is already 'Made for Recycling Interseroh'.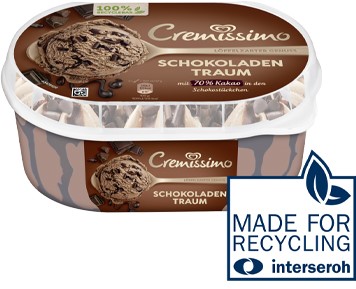 Unilever asked to take a closer look at its 'Cremissimo' ice cream tub, to ensure that this packaging is perfectly compliant with good practice in the closed-loop economy. Lab analysis confirmed that the Cremissimo packaging has very good recyclability – so the product is allowed to show the 'Made for Recycling Interseroh' seal. The ice cream tubs are made out of 100% polyolefins and without recycling-unfriendly barriers.
New: chocolate in a paper bag! The new 'mini bag' from Ritter Sport is now offered in a paper pouch with very good recyclability and has been awarded the 'Made for Recycling Interseroh' seal. The new mini bag from Ritter Sport is a first step in the use of paper for packaging. To produce this pouch, the company used a modern, high-tech paper whose coating doesn't cause problems in the recycling process.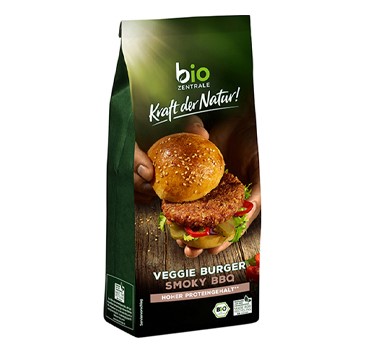 The 'Veggie Burger' dry mix from biozentrale for making vegan burger patties is packed in a paper pouch with a greaseproof paper liner. This approach has been chosen to avoid having to coat the paper, which can lead to problems later during recycling. This ensures that paper fibres can also be reused many times in the loop.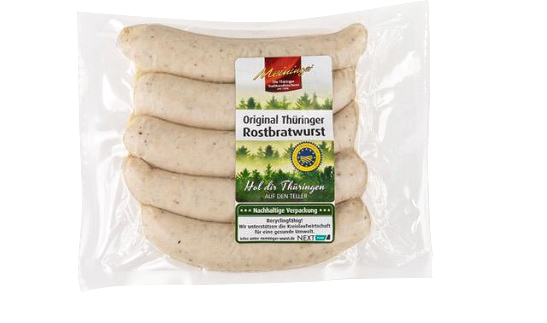 VF Verpackungen has developed a top and thermoforming film for vacuum packaging of meat and sausage products without PA barrier. The NEXT FLEX MPO film consists exclusively of polyolefins and can thus be optimally recycled. In the scientific evaluation of the recycling service provider Interzero, NEXT FLEX therefore also received 19 out of 20 points in terms of its recyclability and thus the grade "very good". NEXT FLEX - for a functional circular economy.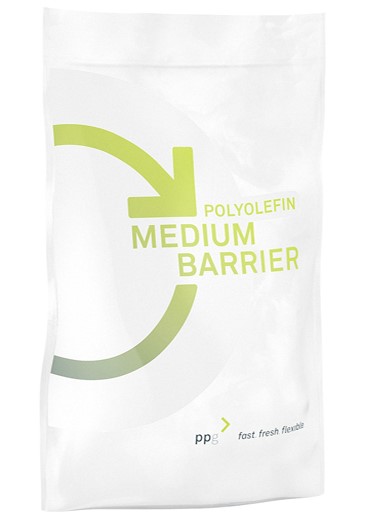 The company ppg > flexofilm GmbH has launched a type of packaging for grated cheese on the market made entirely from polyolefins. Since grated cheese outgasses after production – and therefore in the packaging – the bag or pouch must let these gases escape. This is usually achieved by using a polyamide layer that is very bad for recycling. In the new pack, however, this has been replaced by PP, earning it the 'Made for Recycling Interseroh' seal.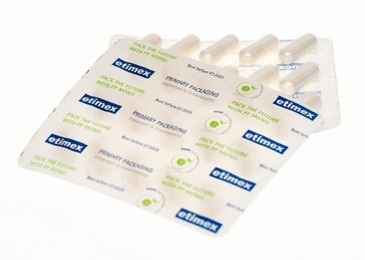 Etimex offers old PVC tablet blisters with aluminum-foil an environmentally friendly alternative with blisters made of PP with PP lidding foil. The monomaterial solution, unlike PVC and multi-material packaging, can be recycled very well - while maintaining product protection and convenience.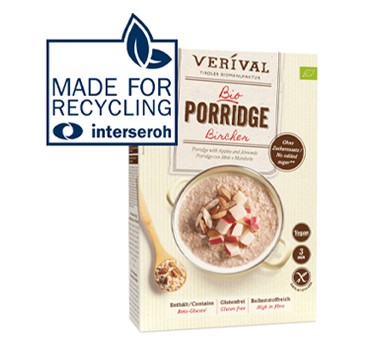 Sustainability is a top priority for organic foods maker Verival. And its packaging is no exception. Verival's breakfast packaging consists of a plain polyolefin inner foil instead of a multi-layer composite, plus a folding carton with good recyclability. The folding carton offers stability during transportation and shipping, and is the only material used for printing, to ensure the inner foil is more easily recycled. The breakfast pack has displayed the 'Made for Recycling Interseroh' quality mark since mid-2020.
Packaging with the 'Made for Recycling Interseroh' seal is cool for the climate!
High rates of recycling

Packaging meets and exceeds the legal standards for recycling.

The right bin – every time

The packaging materials can be separated and disposed of correctly.

Efficient sorting

Sorting plants can easily identify the packaging materials used.

High-quality recycling

These are materials that can be reused in new products and new types of packaging.

More responsibility

You make an important personal contribution to promoting the closed-loop.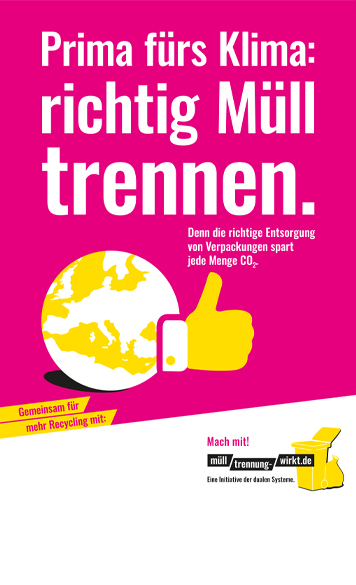 Good recycling results start with packaging waste that's properly separated. Get involved!
"Separating our waste properly and regularly is something we all have to do as members of society: everyone can do their part to help protect the climate and our resources."
Axel Subklew, spokesperson for the ´Waste Seperation Works´ campaign
Our expert for
Sustainable packaging
Julian Thielen
Head of "Made for Recycling"